Solecon Laboratories, Inc.
---
About
We provide silicon depth profiling to the semiconductor processing industry using Spreading Resistance Analysis (SRA).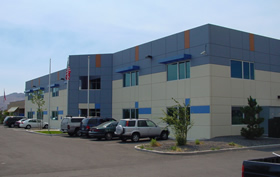 Briefly, Spreading Resistance Analysis: Provides profiles of carrier concentration vs. depth in silicon or germanium.
Can be done at any stage of the wafer fabrication process.
Is offered as a service (i.e., you send us samples and we send you profiles.)
Has been Solecon Labs' area of excellence for over 25 years.
We will be happy to discuss the possibility of running complimentary analyses to demonstrate our capabilities on your samples. Please call us, toll free, at 877-Solecon (877-765-3266)
Contact
770 Trademark Drive
Reno, Nevada 89521
United States of America